Edited to add a recipe down at the bottom.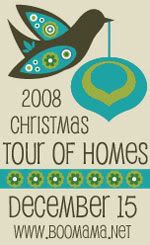 Welcome to Casa de Overstreet! Welcome y'all...come on in for a long winters nap.
O wait...that's not why we are here.
Here is outside at night. DON'T JUDGE ME with my snaggle tooth light out. They are on order. Call UPS and hassle them.
See the pretty new wreath on the door? That's the first new thing we have bought in a couple of years round here.
Once inside you get to see our highly touchable tree. When Belle (my oldest) was about 2 we decided that our kid(s) should be able to not only participate in
decorating the tree
but they should also get to touch it any time they felt all Christmas-y. So, we donated the big fancy ribbony and breakable tree to our church and invested in all plastic/rubber/resin decorations.
See?
To keep with the "candy Christmas" theme, the kids made gingerbread houses with their grandma again this year. Here is my darling Belle's house. See the "O" on the mailbox for Overstreet? She rocks in her attention to details.
This is my absolute FAVORITE Christmas decoration. My best friend got it for me a few years ago. It is Mary and Joseph and baby Jesus, but they spell the word JOY. Awesome!
To the left of the tree above the couch are our family stockings. Camo for Dave, Bear stocking for Belle (b'c she was our Bella Bear for so long), puppy for Sissy girl because...well...she's a dog, a Christmas-y looking one for Luke b'c he was born at Christmas and a blue one for me. Don't know why it was just pretty.
Below the stockings is our manger scene. See the angel hanging singing "Glory to God in the Highest and on Earth, peace and good will toward men"? She doesn't say it actually, but I know what she's thinking.
Turn your head to see our hanging on the wall gifts. (aka wrapped picture frames...had you going didn't I? I didn't...oh well.)
Our living room window with some lights..nothing special...just illuminated.
Belle has her own tree (pink) that she decorates every year. And here is her wooden manger scene. This is a family tradition carried on from Alicia (Nana G). She did it with her girls and I totally stole it for my kids. The manger scene is waiting in Belle's room....
...Mary and Joseph hang out between the lotion and the softsoap until the kids come and help them "journey" thru the house...ahem...to Bethlehem. On Christmas Eve they check into the stable in Belle's room. On Christmas morning when the kids wake up they will find a babe wrapped in swaddling cloths and lying in a manger.
And because of that we truly can have peace on Earth and peace in our hearts. Thank you, Jesus for coming to this wicked world and living as God in the flesh so that you might die for my sins and save me and my family. Praise you, Lord!
This is a COVETED recipe (not really...it's on the bottle)
Cinnamon Candy
3 ¾ Cups Sugar
1 ½ Cups Light Corn Syrup
1 Cup Water
2 Drams Flavoring
Food Coloring
Powdered Sugar
Mix 1st 3 ingredients.
Stir until sugar completely dissolves
Boil WITHOUT stirring until hard ball
Remove from heat
AFTER boiling CEASES, stir in flavor and color
Pour onto lightly greased sheet
Cool and sprinkle on sugar
Break into pieces and enjoy!~